Pinky @ 10:02 am November 17, 2014
Comments Off

on Melbourne Victory Family Day – Sat, Nov 29th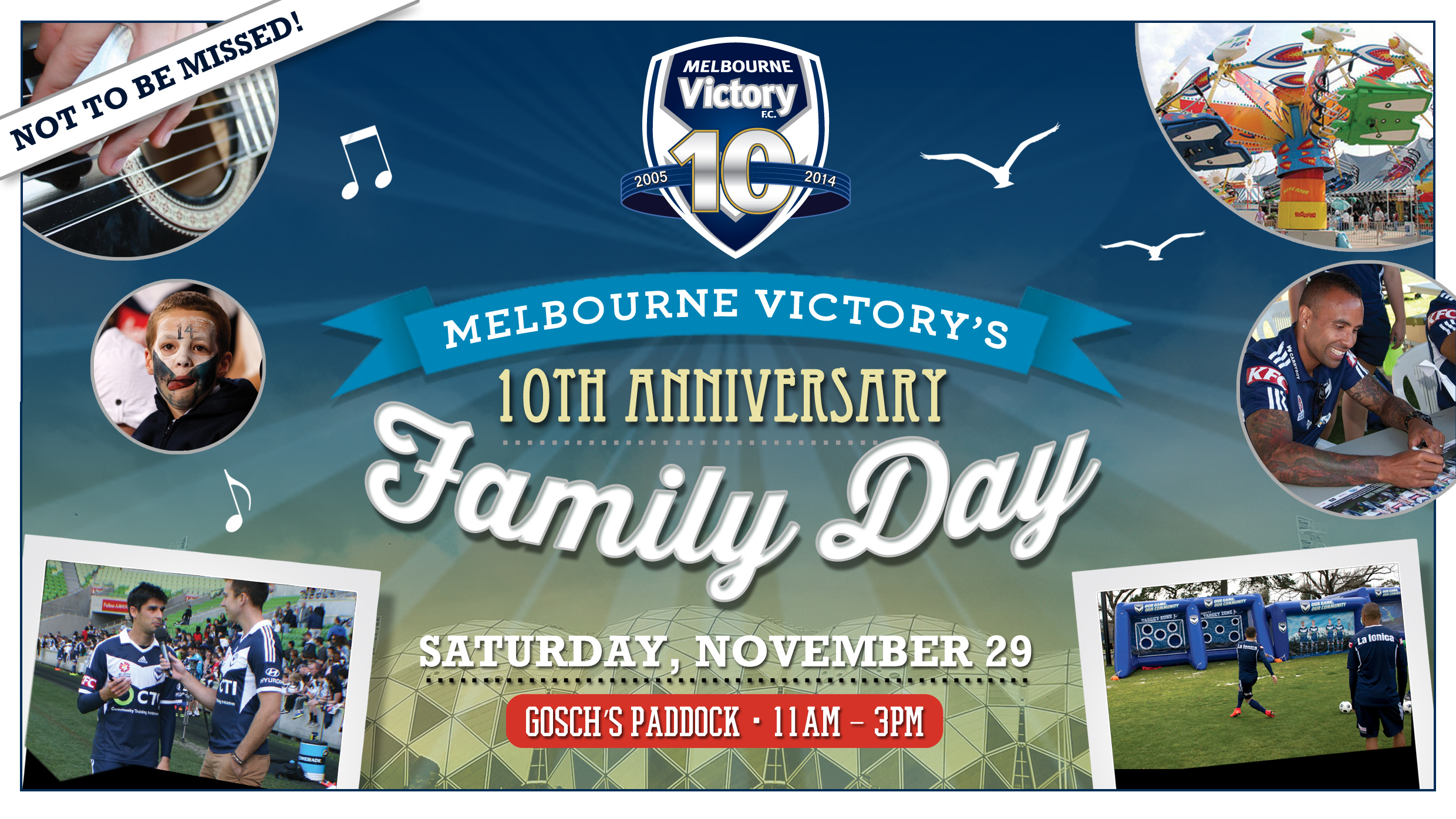 Pinky @ 12:01 pm October 30, 2014
Comments Off

on Players wanted for the senior women's group
The senior women's playing group has put a call out for new players to boost the squad heading into the 2015 season.
If you know of anyone, or are interested yourself, send an email to Michelle ( womenscoordinator@elthamredbacksfc.org.au ) to find out more.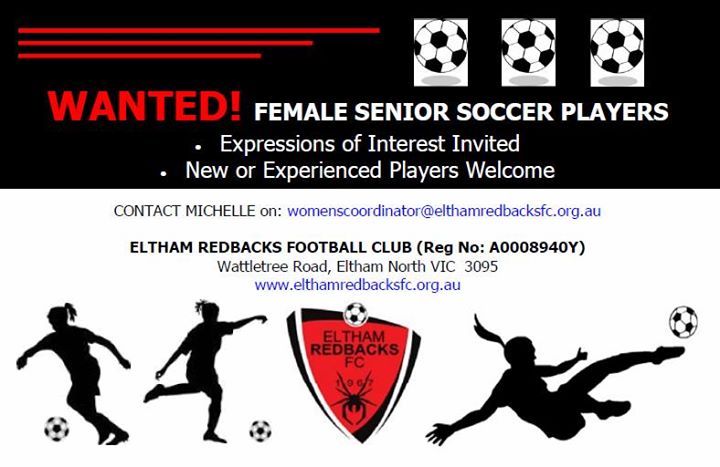 Pinky @ 2:30 pm October 27, 2014
Comments Off

on Barry Plant Eltham's sponsorship announcement!
Barry Plant Eltham brought their own novelty cheque to Senior Presentation Night on Friday, held at Ashton Manor in Diamond Creek, to announce a three year sponsorship agreement!
It's amazing support from our long-term major sponsor, and multiple year sponsorship deals like this make it possible to put on our quality football programmes, maintain coaching quality through FFV accreditation and support our lease of the facility and purchase of equipment, so it's absolutely essential for our club.
As we took the opportunity to explain to Barry Plant Eltham – our success is directly attributable to their support, mixed with some very hard work from our volunteers, coaching staff and all the support crew around them.
Thank you to Barry Plant Eltham for their ongoing support, and you know where to go when you want to sell your house or have your rental property managed!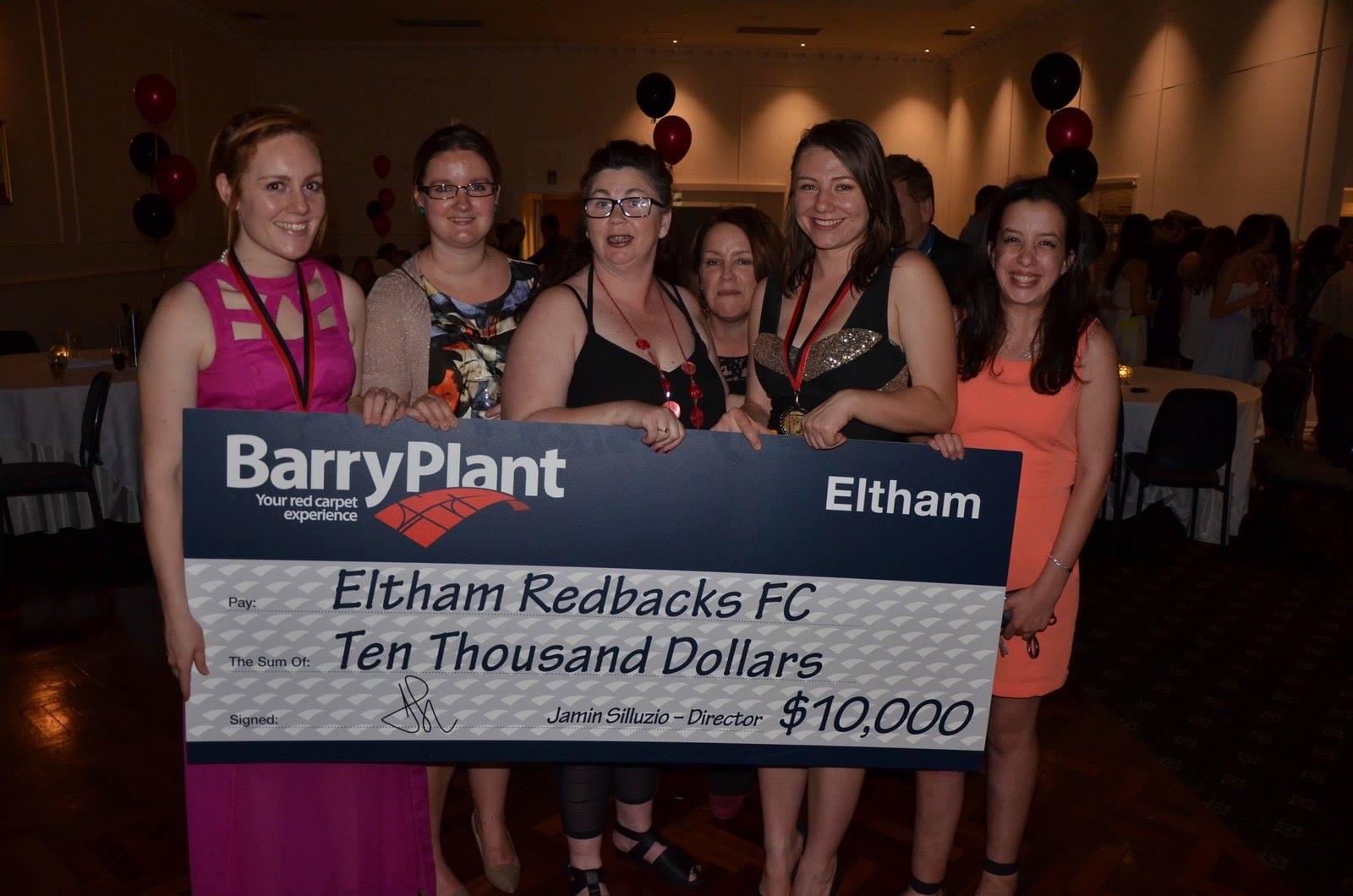 Ivan Dalla Costa @ 12:33 pm October 3, 2014
Comments Off

on Victorian Premier Pledges $3.6m to upgrade Facilities
Premier and Liberal party leader Dr. Dennis Napthine along with Minister Mary Wooldridge and Steve Briffa  announced a $ 3.6m commitment to the Eltham North Reserve if elected on November 29th. Eltham Redbacks FC will receive $2m to rebuild the current facility to accommodate the growth of our club with over 850 members.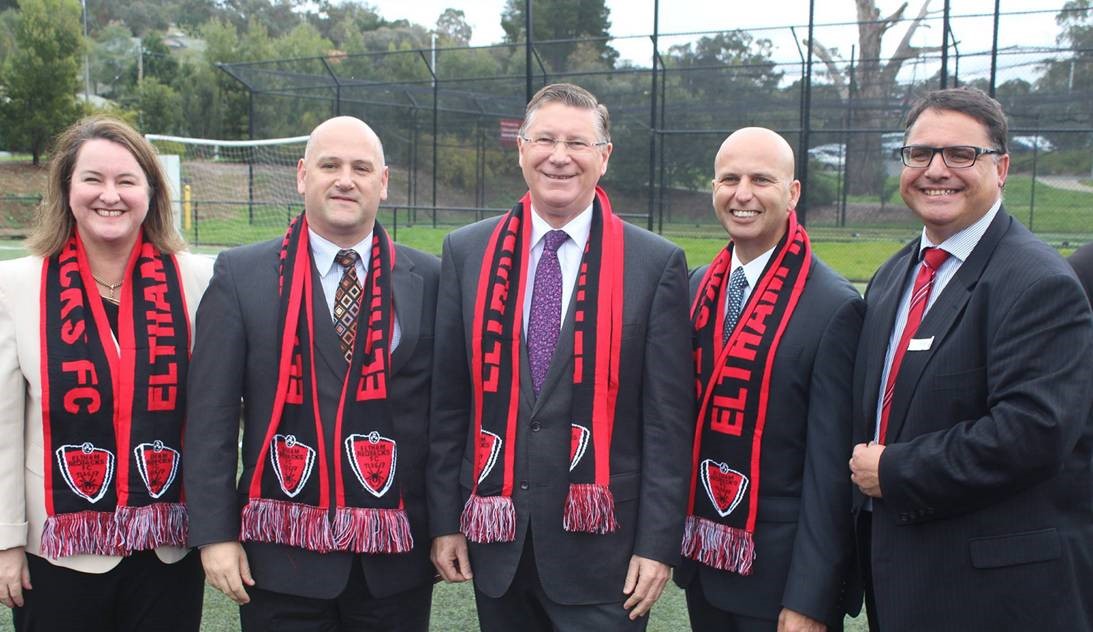 ( ERFC President Ivan Dalla Costa and Vice President David Freeman with Premier Napthine, Minister Wooldridge and Eltham Liberal member Steve Briffa )
Pinky @ 11:09 am September 23, 2014
Comments Off

on 2014 President's Report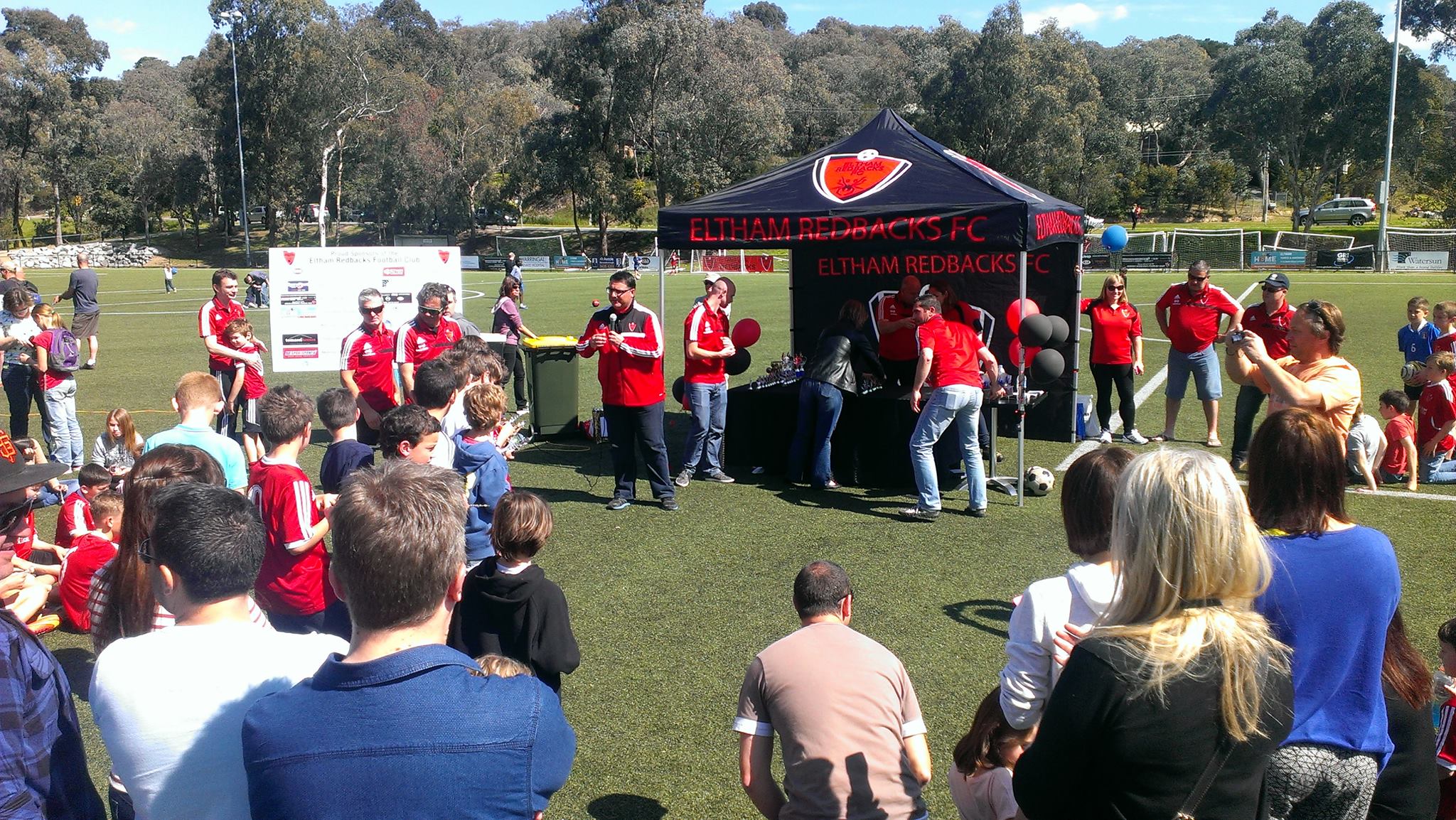 Welcome to the Eltham Redbacks Football Club's 2014 Annual General Meeting.
The 2014 season has been another good year with many successes on and off the pitch and everyone needs to be congratulated.
The club continues to grow and the football program is going from strength to strength. We are well positioned to be the premier football club in the North East region with over 850 members.
The Nillumbik community has embraced the Redbacks with continued support by local businesses, schools, the council and state parliament members.
The highlights of the season for the club are as follows:
The ongoing success of the clubs Saturday morning Spiderlings and Small Sided Games Program.
The continued improvement in our TechFootball+ program.
Successful campaign by both the senior women and men in the knock-out cups
Senior men and reserves being crowned premiers for 2014. They have broken a 42 year drought and a 55 year record by winning every match of the home and away season.
The senior women becoming runner-up in State League 2.
The continued development of all the junior teams at all age groups.
Further development of the girls program with teams in all age groups and 2 under 9 teams.
The continued success of the over 45 league with 4 Eltham teams
The continued development of our Men's and Women's programs and the young age of the players involved in these teams.
Off the field the committee has worked extremely hard to uphold our place in the community with supporting the annual breast cancer and prostate cancer matches by raising over $2,000. In addition the over 45s round robin tournament raised over $2,000 for the local retirement village. The social activities over the year have all proven to successful with an outstanding attendance at Trivia night.
The Nillumbik council adopted the long awaited soccer strategy which focuses on improving facilities for soccer in the Nillumbik. The strategy also earmarks the upgrade of the Eltham North facility which has been supported by the Labour party by promising $1m towards the upgrade. We are confident that the Liberal party will match the Labour party pledge.
Local businesses have embraced the Redbacks by being sponsors of the club. This year we had 10 major sponsors donating valuable funds that were reinvested into the club for many projects. I take this opportunity to personally thank all sponsors.
All the above has resulted in greater exposure for the club and in particular regular articles in the newspaper, TV and social media.
The club continues to work to its priorities that have been set in the club's 2011 – 2016 Strategic Plan with key strategies of:
Improve the quality, depth & diversity of the football programs
Improve club infrastructure and access to the community
Improve club administration and communications
Develop a vibrant social program
In 2014 the club continued to make good progress against these strategies however there is always more work to do. The committee believes firmly in a strong integrated club and that success in junior program aids the senior programs and success in the senior programs aids the junior programs.
The continued success of the club will not only be judged by the quality of the football programs that the club rolls but also how well the club is managed and that the club provides an positive family friendly environment and that everyone feels welcome.
I am also pleased of our financial position and continued profitability. Our focus on corporate governance has assured our processes and policies are well documented and provide members the surety of a well managed club
I take this opportunity to thank all members of the 2014 Committee and without them the club would not have been the success that it was in 2014. – THANK YOU.
I also commend the commitment of the playing group and all those parents who get the players to training and to games and to those partners that are football widows or widowers during the season – THANK YOU.
Special thanks go to all the volunteers – coaches, team managers, committee, canteen staff and our duty manager. Without their support and ongoing commitment, the club would not have progressed as it has over the last 5 year.
I wish you all the best for the remainder of 2014 and I look forward to be your President in 2015.
Ivan Dalla Costa
Club President.
Pinky @ 7:47 pm September 22, 2014
Comments Off

on Our newest life member: Cameron Lockhart!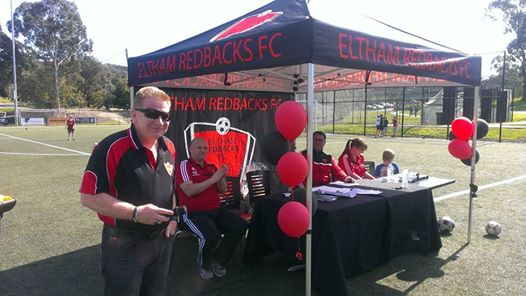 Cameron Lockhart first became a member of the Eltham North Soccer & Sporting Club (ENSC) in 1998 when his oldest daughter commenced playing with the club in U7s. He immediately volunteered as assistant coach of the U7 team. The next season he coached U8s and then again the U9s in 1999 and 2000. In 2001 he was unable to commit to coaching a team due to starting a new job however he continued volunteering at the club by joining the committee. Cameron remained on the committee for 13 years from 2001 to 2013 serving a number of roles , but in particular a long stint as Junior Girls Coordinator, before becoming Vice President for 2 years in 2007 and 2008 and finally President for 5 years from 2009 to 2013.
During Cameron's time as Vice President he lead the clubs liaison and coordination with the Nillumbik Shire Council for the redevelopment of the facility including the implementation of the synthetic ground & lighting and the redevelopment of the top oval. One of the challenges Cameron enjoyed in achieving the redevelopment was in making additional representation to the State Government Sports Minister for an additional $360K of funding to complete the redevelopment due to the council overspending on the redevelopment of the Diamond Creek Football Club ground.
As President, the club experienced unprecedented growth from 270 players to 850 players, taking the club to the 4th largest Football Club in Victoria at the time. Through Cameron's leadership, and the hard work of the committee, a number of major initiatives were implemented to make the club what it is today. Looking back, some of the highlights for Cameron from his time on the committee are:
Developing a five year Club Strategic Development Plan
Rebranding the Club from Eltham North Soccer & Sporting Club to Eltham Redbacks Football Club
Implementation of the FFA National Curriculum into the Football Program
Employment of a Technical Director to oversee and lead the Club Football Program
Implementing the U5 Spiderlings program
Introduction of a girls only FFA SSF program (U7 to U11)
Starting up the Over 45's program
Introducing the TECHfootball+ Development Program
Securing a strong relationship with Melbourne Victory Football Club through membership of Club Victory
Introducing new social and community engagement programs including
the Women's Breast Cancer Charity Match (Pink Ribbon)
Prostate Cancer Charity Match (Call to Arms)
Over 45s Eltham Aged Care Charity 'World Cup Day"
The club Shirt Presentation Day
Most recently, the major initiative Cameron was involved in was in lobbying Council and community leaders for the development of the Nillumbik Soccer Strategy which was approved this year and which provides for a $15M development plan for football facilities in Nillumbik over the next 10 years.
During his time on the committee he maintained his coaching within the club, recommencing in 2003 and continuing until 2013. Cameron coached in every section of the football program except for the senior men and Over 45s program. He coached the Goal Kick Program (pre-cursor to SSF), junior teams in the SSF Program, junior boys and girls teams from U12 through to U18, and senior women. One of Cameron's favourite memories is securing a championship title with the U16 Girls team. He also coached our Women's Premier League reserves team.
All of Cameron's five children have been long term players of the club, and his three oldest daughters are players in the senior women's teams to this day.
Due to work and family commitments Cameron stood down from committee duties at the end of the 2013 season.
I'll ask the attending members today to join President Ivan Dalla Costa, and the Committee, by endorsing Cameron's nomination for club life membership by a show of hands.
Pinky @ 10:03 pm September 15, 2014
Comments Off

on State Labor's ERFC funding promise
On the 28th of August Labor Leader Daniel Andrews along with Vicki Ward Labor's Eltham candidate announced funding for a multi-use St Helena Sporting Complex which also means that $1 million will be dedicated to renovating the Eltham Redbacks FC club rooms, including new female changerooms and $1 million for the Eltham Wanderers Cricket Club to build their new clubrooms with the Eltham North Scouts.
Pinky @ 10:15 am September 15, 2014
Comments Off

on Junior Presentation Schedule (updated!)
Pinky @ 10:20 pm September 10, 2014
Comments Off

on School Holiday Programme! 3 days of football fun!
Eltham Redbacks are very pleased to announce that we will be providing another School Holiday Programme on Tuesday 30th September, Wednesday 1st and Thursday 2nd of October.
The programme was a huge success in July and will again be designed and run by Ashley Greaves, the current U14 A team coach. Ashley is a fully qualified professional coach (with a UEFA licence) and has a decade of coaching experience in the UK and Australia with a variety of age groups. He will be assisted by the leading coaches from within the club.
The programme will be 3 full days (8.30am – 4pm) designed for football fun! The programme will be tailor made to suit different ages (Aged 7 and up) and abilities so everybody is welcome to join in! Non ERFC members are also welcome so it's a chance for the kids to get all their friends involved.
The mornings will consist of fun-based training games and drills (more challenging based on age/ability) whilst in the afternoons the kids will get to do what they love the most…play full games of soccer with their friends!
Morning tea and lunch will be provided at no extra cost, and there will be a fully qualified first-aid volunteer on hand on all 3 days.
Cost
Any 1 day – $65
Any 2 days – $130
All 3 days – $150 (only $50 per day!)
How to book
Click through this link: http://www.trybooking.com/FBYX
Step-by-step booking guide
1) Go to the link above
2) Read the information on the homepage then click the 'continue booking' (bottom of page)
3) Select the type of ticket you want and also the quantity of each you would like.
4) Enter the attendees information (remember to include dietary information if necessary)
5) Complete the booking information.
6) You will receive a confirmation of your booking shortly after completion.
If you would like any further information please feel free to contact Ashley on 0450761241 or greaves4000@hotmail.com
We look forward to seeing you and the kids in the holidays!
Pinky @ 12:19 pm September 5, 2014
Comments Off

on TECHfootball+ Academy
The TECHfootball+ Academy program aims to accelerate the development of our  footballers at Eltham Redbacks through a targeted extension of our football program over the summer term. Coaching is provided by our most experienced coaching team including our title winning Senior Men's Coach (Paul Harris), Senior Women's Coach (Nick Crinis) and Junior and Sub-Junior Technical Directors (Murray Ovens and Fabrizio Rocchi). Sessions include skill drills, tactical and positional training, small sided and full pitch game training.
This 10 week program commences Mon 6th October and finishes Sun 14th December.
Program schedule is:
Girls
Under 9 to Under 11 – Wed 7pm to 8.30pm and Sun 3pm to 4.20pm (2 hours and 50 mins per week)
Under 12 and older – Wed 7pm to 8.30pm and Sun 4.30pm to 6pm (3 hours per week)
Boys
Under 8 to Under 10  – Mon 5pm to 6.30pm and Sat 8.30am to 10pm (3 hours per week)
Under 11 and older  – Mon 7pm to 8.30pm and Sat 10.30am to 12pm (3 hours per week)
(Session times may be subject to change depending on booking numbers)
Cost (GST inc.)
Two session per week – $280
One session per week – $140
TECHfootball+ Academy shirt – $25 (GST inc.)
All players must have a TECHfootball white Adidas training shirt. New shirts can be ordered during booking by selecting the ticket type that includes a shirt.
Venue
Eltham Redbacks FC
Wattletree Rd, Eltham North
Booking
To book click on the link: TECHfootball
Contact details
David Freeman (m) 0457503492 (email) vicepresident@elthamredbacksfc.org.au