Voila! The pre-season training schedule! Starts Monday 23rd Feb. Coaches will be confirmed over the next few days – we need to get this out first so that teams show up to be coached. Exciting times – great numbers at the grading trials and we're going to have a really fantastic year at Eltham.
"APG" means Adventure Playground (oval opposite Eltham North Primary School). If you're not training there, you're at Eltham College ground or on the synthetic pitch at the actual clubrooms on Wattletree Rd. The top oval is currently not allocated to us, which is why no training will be on that surface for now. "Eltham College" refers to the elevated top oval opposite the college. Drive straight up through Research towards Kangaroo Ground, and turn left into the service road to enter the two college ovals, and it's the top oval. You will be greated and instructed when you arrive.
Some teams have alternating venues – first day (e.g., Mon) will be at one location, and second day (e.g., Wed) will be at a different location. All teams of the same age group are at the same venue – so the first session, everyone will show up to the same venue because you won't know which team you're in.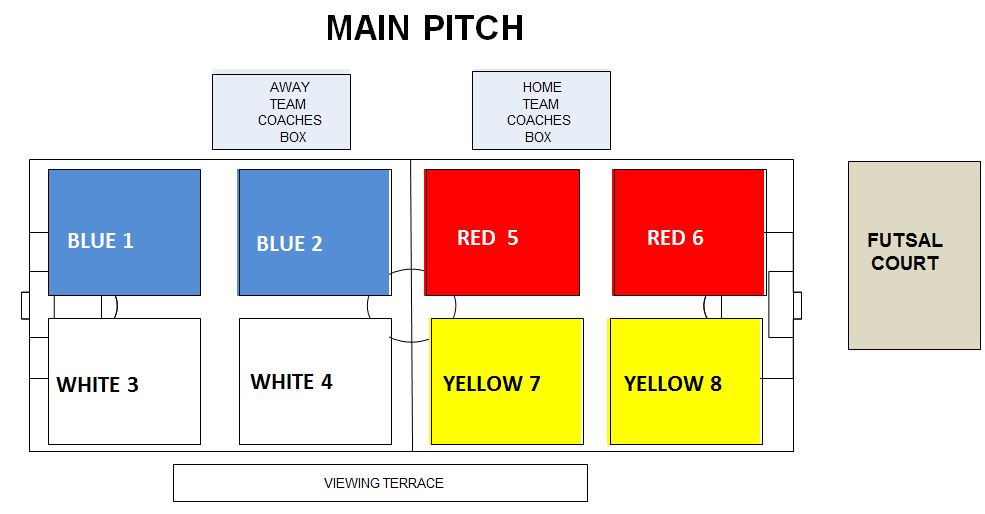 | | | | | | Pitch Allocation | | Pitch Allocation |
| --- | --- | --- | --- | --- | --- | --- | --- |
| | | | | | Training Day One | | Training Day Two |
| SSF Girls | Team | League | Coach | Training Times | | | |
| Girls Under 9 | Under 9 | Joeys | TBC | Wednesday 5.30 - 6.30pm | Blue 1 | | |
| | Under 9 | Joeys | TBC | Wednesday 5.30 - 6.30pm | White 3 | | |
| | | | | | | | |
| Girls Under 10 | Under 10 | Wallabies | TBC | Monday and Wednesday 6.00 - 7.00pm | APG | | Blue 1 |
| | | | | | | | |
| Girls Under 11 | Under 11 | Wallabies | TBC | Monday and Wednesday 6.00 - 7.00pm | APG | | White 3 |
| | | | | | | | |
| SSF Boys | Team | League | Coach | Training Times | | | |
| Boys Under 8 | Under 8 Team 1 | Kanga | TBC | Monday 5.00 - 6.00pm | Eltham College | | |
| | Under 8 Team 2 | Kanga | TBC | Monday 5.00 - 6.00pm | Eltham College | | |
| | Under 8 Team 3 | Wallabies | TBC | Monday 5.00 - 6.00pm | Eltham College | | |
| | Under 8 Team 4 | Wallabies | TBC | Monday 5.00 - 6.00pm | Eltham College | | |
| | Under 8 Team 5 | Joey | TBC | Monday 5.00 - 6.00pm | Eltham College | | |
| | Under 8 Team 6 | Joey | TBC | Monday 5.00 - 6.00pm | Eltham College | | |
| | | | | | | | |
| Boys Under 9 | Under 9 Team 1 | Kanga | TBC | Monday 6.00 - 7.00pm & Wednesday 5.00 - 6.00pm | Eltham College | | Eltham College |
| | Under 9 Team 2 | Kanga | TBC | Monday 6.00 - 7.00pm & Wednesday 5.00 - 6.00pm | Eltham College | | Eltham College |
| | Under 9 Team 3 | Wallabies | TBC | Monday 6.00 - 7.00pm & Wednesday 5.00 - 6.00pm | Eltham College | | Eltham College |
| | Under 9 Team 4 | Joey | TBC | Monday 6.00 - 7.00pm & Wednesday 5.00 - 6.00pm | Eltham College | | Eltham College |
| | Under 9 Team 5 | Joey | TBC | Monday 6.00 - 7.00pm & Wednesday 5.00 - 6.00pm | Eltham College | | Eltham College |
| | | | | | | | |
| Boys Under 10 | Under 10 | Kanga | TBC | Monday & Wednesday 6.00 - 7.00pm | APG | | Eltham College |
| | Under 10 | Wallaby | TBC | Monday & Wednesday 6.00 - 7.00pm | APG | | Eltham College |
| | Under 10 | Joeys | TBC | Monday & Wednesday 6.00 - 7.00pm | APG | | Eltham College |
| | Under 10 | Joeys | TBC | Monday & Wednesday 6.00 - 7.00pm | APG | | Eltham College |
| | | | | | | | |
| Boys Under 11 | Under 11 | Kanga | TBC | Monday 6.00 - 7.00pm and Saturday 9.00 - 10.00 am | Blue 1 | | Blue 1 |
| | Under 11 | Wallaby | TBC | Monday 6.00 - 7.00pm and Saturday 9.00 - 10.00 am | White 3 | | White 3 |
| | Under 11 | Joeys | TBC | Monday 6.00 - 7.00pm and Saturday 9.00 - 10.00 am | Red 5 | | Red 5 |
| | Under 11 | Joeys | TBC | Monday 6.00 - 7.00pm and Saturday 9.00 - 10.00 am | Yellow 7 | | Yellow 7 |
| | | | | | | | |
| Junior Boys | Team | League | Coach | Training Times | | | |
| Boys Under 12 | Under 12 | Kanga | TBC | Tuesday 5.30 - 7.00pm and Saturday 10.00 - 11.30am | Blue 1 | | Blue 1 |
| | Under 12 | Wallabies | TBC | Tuesday 5.30 - 7.00pm and Saturday 10.00 - 11.30am | White 3 | | White 3 |
| | Under 12 | Joeys | TBC | Tuesday 5.30 - 7.00pm and Saturday 10.00 - 11.30am | Red 5 | | Red 5 |
| | | | | | | | |
| Boys Under 13 | Under 13 | U 13 A | TBC | Tuesday and Thursday 5.30 - 7.00pm | APG | | Blue 1 |
| | Under 13 | U 13 C | TBC | Tuesday and Thursday 5.30 - 7.00pm | APG | | White 3 |
| | Under 13 | U 13 D | TBC | Tuesday and Thursday 5.30 - 7.00pm | APG | | Red 5 |
| | | | | | | | |
| Boys Under 14 | Under 14 | U 14 A | TBC | Tuesday and Thursday 5.30 - 7.00pm | APG | | APG |
| | Under 14 | U 14 B | TBC | Tuesday and Thursday 5.30 - 7.00pm | APG | | APG |
| | | | | | | | |
| Boys Under 15 | Under 15 | U 15 A | TBC | Tuesday and Thursday 7.00 - 8.30pm | Blue 1 | | APG |
| | | | | | | | |
| Boys Under 16 | Under 16 | U 16 B | TBC | Tuesday and Thursday 7.00 - 8.30pm | Red 5 | | APG |
| | | | | | | | |
| Boys Under 18 | Under 18 | U 18 A | TBC | Tuesday and Thursday 7.00 - 8.30pm | APG | | APG |
| | | | | | | | |
| Junior Girls | Team | League | Coach | Training Times | | | |
| Girls Under 12 | Under 12 | Kangas | TBC | Monday and Wednesday 5.30 - 7.00pm | APG | | Red 5 |
| | | | | | | | |
| Girls Under 13/14 | Under 14 | U 13/14 A | TBC | Monday and Wednesday 7.00 - 8.30pm | APG | | APG |
| | Under 14 | U 13/14 B | TBC | Monday and Wednesday 7.00 - 8.30pm | APG | | APG |
| | | | | | | | |
| Girls Under 16 | Under 16 | U16 | TBC | Monday and Wednesday 7.00 - 8.30pm | APG | | APG |