Ivan Dalla Costa @ 10:40 am September 18, 2015
Comments Off

on Aussie Greensborough Has an exclusive offer for the Redbacks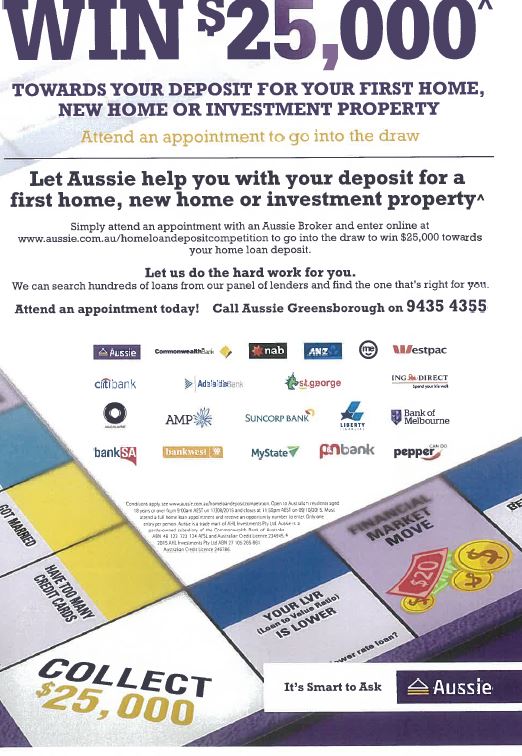 Pinky @ 11:07 pm August 30, 2015
Comments Off

on Junior Presentation Day and AGM
Junior presentations up to U16 players will be held on Sunday September 13th. Let's hope we get the weather we have had the last few years!
The canteen will be open and we'll have a BBQ going, so look out for that. We will have a sale for excess uniform stock as well looking forward to the 2016 – so if you're looking to pick up a polo or jacket, they will be on sale for cheap.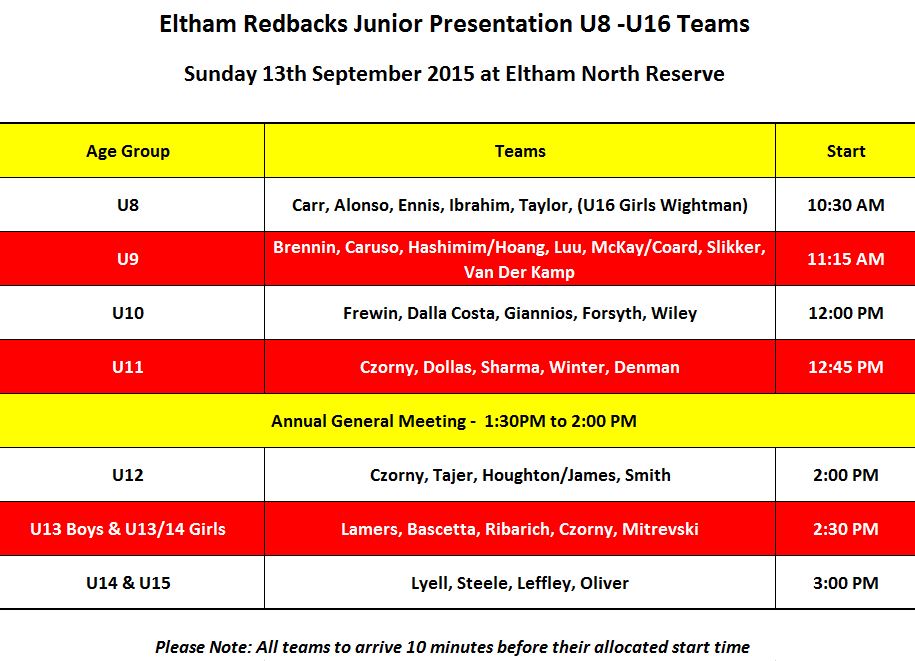 Annual General Meeting
During the lunch-time break the AGM will take place with the following agenda.
1.      Welcome member and guests (Declaration SECT 206B – no bankruptcy)
2.      Apologies
3.      Acceptance of Minutes from 2014 AGM
4.      Business arising from Minutes
5.      Correspondence
6.      Presentation of reports
President – Ivan Dalla Costa
Secretary – Ryan Adams
Treasurer – Kirsten Gallagher
Auditor
7.      Resignation of current Committee and election of new office bearers for 2015
President
Vice-president
Secretary
Treasurer
8.      Election of General Committee
9.      General Business
Constitution – Bring ERFC constitution up to standards required by Associations Incorporations Reform Act 2012. This update was done in Feb 2014, has been reviewed, and we would like to vote in the updated constitution.
Current constitution: Click here to download
New proposed constitution: Click here to download
Club Life Membership Nominations (Two nominations received: Phil David, Ryan Adams)
10.  Close of Meeting
For any questions please contact Ryan: secretary@elthamredbacksfc.org.au
AGM Proxy Voting form: Click here to download
Pinky @ 6:22 pm August 24, 2015
Comments Off

on Kick it with Victory! Mon, Sep 21st @ ERFC
Pinky @ 5:57 pm July 5, 2015
Comments Off

on Don't stand by, stand up!
Eltham Redbacks FC is right behind the FFV and VicHealth when it comes to delivering this message.
So don't stand by when you see racism; stand up!

Pinky @ 10:22 pm June 25, 2015
Comments Off

on Long-term sponsor sale
Our long-term sponsor Northern Chrysler Jeep Dodge has a big end of financial year clearance on at the moment – head over to Grimshaw St for a look if you're in the market!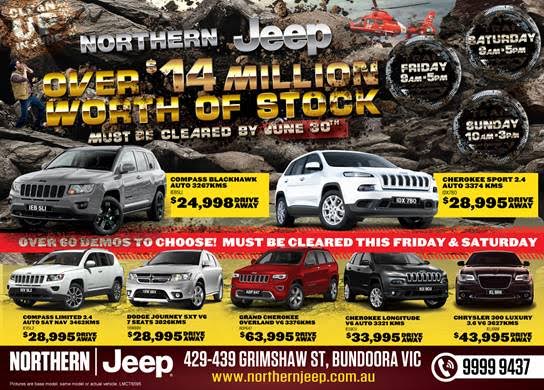 Ivan Dalla Costa @ 4:42 pm June 24, 2015
Comments Off

on President's Half Year Update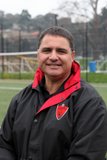 As we move into the second half of the 2015 season, I want to take the opportunity to provide an update on the season to date and some exciting developments.
As always, I want thank all the technical directors, coaches, team managers, committee and volunteers for all their hard work since pre-season commenced in February. Without their dedication and commitment the club would not be able to put 50+ teams on the pitch every week. Whether you are responsible in rolling out a football program or helping in the canteen, every little bit helps in making us the best football club in Melbourne.
Playing numbers continue to be strong with over 850 members ranging from our 3-4 year old Spiderlings to our over 45 men's teams. We have experienced an increase in player numbers in all areas with the biggest growth in our girls/women program. Well done girls hopefully we will soon have several Matildas!
On the park the Redbacks have been extremely competitive with all teams across all ages having success. Our senior men and women teams continue to power on and are sitting on top of the ladder of their respective leagues. Junior teams have shown great development with exciting football being played at all levels.
A special thanks goes to our sponsors. With their support the club is able to invest into the football program that keeps us ahead of the rest. I strongly encourage you consider buying their products or use their services as a way to say thank-you for their on-going support. Pls refer to our sponsor page for their contact details. (Click here)
Over the coming months we have earmarked a number of social events, including the annual Trivia Night, Senior and Junior Presentations, Call to Arms, Pink Ribbon Night and number of other activities. Your participation and contribution at these events is a great way to mingle with the Committee and get to know club members in a social and fun environment. We will be publishing dates shortly however in the meantime I encourage all members to come along to the Trivia night. Click here to make a booking.
Through the great support of our local state member Vicki Ward we have been able to embark on two major projects that will positively impact the Redbacks in coming years. The first is the redevelopment of our club rooms to cater for 850 members and ability to have multiple change rooms. We have commenced the feasibility study and have produced several concepts. Over the coming months I will be able to share more information which will include the need to raise funds to contribute towards the project. The second project is the redevelopment of the St. Helena secondary college sport precinct which will include a synthetic pitch to be used by the Redbacks. This project has many components occurring over many years, however priority has been given to construct the synthetic pitch in the first phase of the project.
The Redbacks prides itself on in respecting and accommodating players from all different backgrounds and levels of abilities. This has been the fabric of the club and will continue to be one of the guiding principles. Please ensure you apply this principle as you play against other teams and visit other clubs.
Finally, I wish you the very best for the remainder of the season and I look forward in catching up down at the "web" – AKA Eltham North Reserve
Go Redbacks
Ivan Dalla Costa
President
Pinky @ 10:23 am May 22, 2015
Comments Off

on 2015 team photo schedule
Click here for the photo order form. Please bring this completed with your payment on the night of your photo.
Monday 25th May
5.30pm U12 Kangaroos/Wallabies (Smith)
5.40pm U10 Girls (Wiley)
5.50pm U10 Kangaroos Boys (Frewin)
6.00pm U10 Joeys Boys (Forsyth)
6.10pm U11 Wallabies Boys (Sharma)
6.20pm U11 Joeys Boys (Winter)
6.30pm U10 Wallabies Boys (Giannios)
6.40pm U11 Kangaroos Boys (Czorny)
6.50pm U11 Wallabies Boys (Dollas)
7.00pm U14B Boys (Steele)
7.10pm U14D Boys (Leffley)
7.20pm U10 Wallabies Boys (Dalla Costa)
Tuesday 26th May
6.10pm U12  Kangaroos Boys (Czorny )
6.20pm U12  Wallabies Boys (Noori Tajer)
6.30pm U12 Joeys Boys (James)
6.40pm U13D Boys (Ribarich)
6.50pm  U13B Boys (Bascetta)
7.00pm  U13A (Lamers)
7.10pm Senior Men SL4E and SL4E Reserves
7.20pm Senior Men SL4E and SL4E Reserves
7.30pm U18A Boys (Quinn)
7.40pm U15A Boys (Oliver)
7.50pm U14A Boys (Lyell)
8.00pm Senior Men Metro 2NW and 5NW
Wednesday 27th May
4.50pm U8 Kangaroos Boys (Carr)
5.00pm U8 Kangaroos Boys (Alonzo)
5.10pm U8 Wallabies Boys  (Ennis)
5.20pm U8 Joeys Boys (Ibrahim)
5.30pm U8 Joeys Boys (Taylor)
5.40pm U9 Kangaroos Boys (Caruso)
5.50pm U9 Joeys Boys (Luu)
6.00pm U9 Wallabies Boys (Hoang)
6.10pm U9 Joeys Boys (Coard)
6.20pm U9 Kangaroos Boys (Brennin)
6.30pm U8/9 Joeys Girls (Van Der Kamp)
6.40pm U8/9 Joeys Girls (Slikker)
6.50pm U11 Wallabies/Kangaroos Girls (Denman)
7.00pm Senior Women SL2NW
7.20pm U21 Girls Development Squad SL4E
7.30pm Senior Women SL3N
7.40pm U13/14A Girls (Czorny)
7.50pm U13/14B Girls (Mitrevski)
8.00pm U16 Girls (Wightman)
Pinky @ 11:30 am May 15, 2015
Comments Off

on Photo order form – Saturday SSF
The Saturday small-sided football group have their photos this week. Here is the photo order form so you can complete and bring it along.
Ivan Dalla Costa @ 4:10 pm May 1, 2015
Comments Off

on Eltham Redbacks Excellence Academy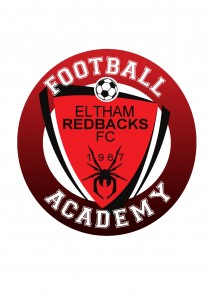 Have you heard about the new academy at Eltham Redbacks FC?
Eltham Redbacks FC is currently scouting for players who strive for excellence.
If you want to accelerate your game you should join.
 The Excellence Academy is designed to accelerate your football development through a deliberate and detailed curriculum including: – Biomechanics, Passing & Shooting techniques ,winning the ball, creating time before receiving the ball, first touch in all directions past opponent(s), Evasive dribbling techniques, Conquering pressure, Decision making in a variety of tactical scenarios; Roles and responsibilities with & without the ball, game intelligence, activating creativity
Programs have been developed for boys and girls from the age of 8 years old.
BALL STRIKING: Learn the full skill set of techniques
Biomechanics: Approach, distribution of weight, contact, transference of weight, follow-through
Passing & Shooting techniques from dead balls and in general play
BALL POSSESSION: Building up to Scoring Goals
How to get the ball; creating time before receiving the ball
Taking first touch in all directions past opponent(s) with different parts of foot and body
Evasive dribbling techniques, including beating opponents in 1v1 situations
Balance and efficiency of moving & running with the ball
Conquering pressure. I.e. Playing with back-to-goal
DECISION MAKING: Thought processing & intuition
Learning why & how in a variety of tactical scenarios; Ball Possession, BPO, Transitions
Roles and responsibilities; with & without the ball, on and off the ball
Awareness, reading of the cues, game intelligence, activating creativity
For more information please click here
Pinky @ 4:08 pm April 21, 2015
Comments Off

on SL4E women battle for a 3-3 draw
Our State League 4 East women's youth development squad travelled to the Ivory Towers of Melbourne University to play in rain and howling wind. Down 3:1 at half time these talented young women clawed back 2 goals in the second half (the final goal in the last 5 min!!) to pull off a hard fought 3:3 draw. With the exception of captain/coach Olivia Moxon the entire team is eligable to play U16 – a very youthful squad indeed! A wonderful performance from players we hope to see in the 1st team in years to come. Go Redbacks!