Player Evaluations and 2019 Trials
Dear Members,
As recently shared with you by Vice President Frank Gallagher, the club has made a considered decision to bring forward the 2019 Trials to November, enabling us to significantly improve the entire trialling process and ultimately provide a better overall development opportunity for our young footballers.
Please read through the following information carefully to understand the full process.
Sincerely,
The Committee
Eltham Redbacks Football Club
Player Evaluations
Over the coming weeks, each of our coaches from U7 to U16 will be completing evaluations for every player in their team. As we repeat these evaluations in future seasons we will have a benchmark by which we can assess the progression of the overall club and that of individual players, as we strive to improve the experience for all our young footballers.
The player evaluations will also form the starting point for upcoming trials, giving us an initial understanding of which players have developed at different rates over the course of this season.
2019 Trials
Trials for all teams from U8s up are a necessary part of our preseason, helping us sort over 600 players into teams for the new season and ensuring every player is playing with a squad that is most appropriate for their level of experience and ability.
We are pleased to be able to confirm the dates for upcoming trials as per the table below.
Players are to attend the session for the age group determined by their birth year. The table below can help you understand this better. Any exceptions to this arrangement is to be discussed in advance with the applicable Head Coach.
We do understand that trials can be a daunting experience for some players and as a result we plan to make changes to the format for this year as we constantly try to refine and improve the process.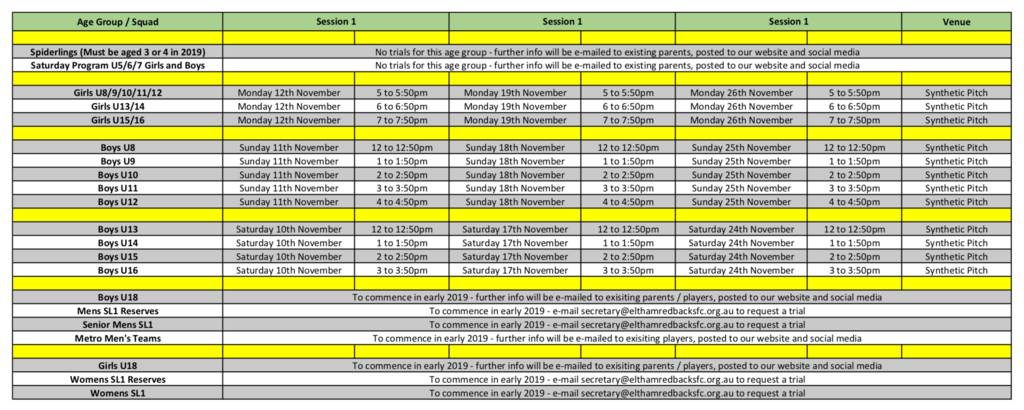 Boys Moving into U8 to U16 Teams
Players of like experience and ability will be grouped together and will participate in a series of small sided round robin games to better replicate a meaningful game environment. In line with the club's football philosophy, 'proactive, possession based football', players will be evaluated based on their technical ability, NOT their game impact. As players are evaluated by the Head Coach's and broader team coach personnel in each trial, groups will be reset each week enabling us to move closer to provisional team selection after each trial.
Girls Moving into U8 to U16 Teams
Several of our experienced female team coaches have a belief that our young female footballers will benefit from a different format. In line with ERFC's commitment to developing and improving our young footballers, we believe that proper core skill analysis and assessment will be a huge platform for the girl's program to build on. The first session will be a series of station work, with each station focusing on a core aspect of football. With this, both player and coach will have results that both parties can then aim to improve. Following on from this session, there will be two sessions of practice games, where coaches can then assess the players technical ability in game related scenarios.
Team Selection & Registration
After the conclusion of trials, we will communicate PROVISIONAL team selections for the coming season. There will then be a further change to recent years, with a two-week window provided requiring a $100 non-refundable deposit to secure team selection.
At the end of the two-week deposit window, age groups where we have not reached maximum squad sizes will remain open for new enquiries with the club actively seeking to fill the remaining spots.
Registration and payment of remaining fees for all ERFC players will then occur from mid-January via the FFA's online registration portal MyFootballClub. Registration and payment of remaining fees is a mandatory requirement for all players wishing to begin preseason with our club with those failing to pay remaining fees forfeiting their place as we enforce a strict No Pay, No Play policy. This ensures teams can be finalised, all players are protected by insurance and can receive their playing uniforms at the earliest opportunity. Note that due to the administrative burden that payment plans cause our volunteer committee members, payment of all fees will continue to be via debit / credit card and the relevant online portals only. Please plan now to avoid disappointment.