Dear ERFC Members,
Welcome back for Season 2021!
Pre-season training will commence in the coming weeks as outlined below.
Please note these times are for pre-season only and will change as we enter the regular season and our home pitch becomes available once its surface replacement is complete.
Boys U13-U15: Tuesday 2nd February
Boys U8-U11: Saturday 6th February
Girls U8-U18: Monday 8th February
Boys U12: Tuesday 9th February
JBNPL: Already commenced
Due to the main pitch resurfacing, training will take place at St Helena and Eltham High School Grass Oval until its completion.
Team selection: Age Group Coordinators will be in contact to advise on team selection.
Please note:
QR Code – Parents, please ensure you SCAN IN and SCAN OUT to each session.
15 minutes between sessions – Coaches and Team Managers, due to COVID restrictions, there must be a 15 minute gap between sessions. If you have a team scheduled to play immediately after your session, please ensure you conclude 15 minutes early.
All members – please familiarise yourself with the Football Victoria – Return To Play Conditions: https://www.footballvictoria.com.au/sites/ffv/files/2020-11/FV_RTP-AllAges.pdf
Team App – Will be updated with the 2021 teams as they are finalised
Eltham High School –
All pre-season training is to remain off the cricket pitch
No pre-season training is permitted in wet conditions
Pre-season training times & locations: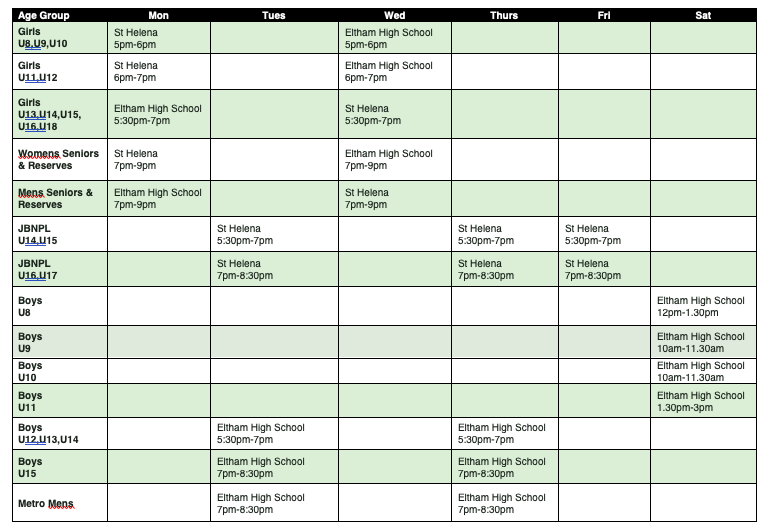 Training locations:
St Helena Secondary College – 50 Wallowa Rd, Eltham North
Eltham High School Grass Oval – 30-60 Withers Way, Eltham
Questions:
Please contact the relevant Age Group Coordinator
Boys U8-U12: – coordinatorminiroosboys@elthamredbacksfc.org.au
Girls U8-U18: girlscoordinator@elthamredbacksfc.org.au
Boys U13-U15: td@elthamredbacksfc.org.au
JBNPL: girlscoordinator@elthamredbacksfc.org.au
Metro Men: cameron_leffley@hotmail.com
Boys & Girls U3-U7 Saturday Program: saturdayprogram@elthamredbacksfc.org.au
GO REDBACKS!
Regards, ERFC Committee