We are very pleased to advise that MiniRoos Boys trials will start this month. If your son is considering playing for Eltham Redbacks, please attend both sessions for your age group and arrive around 30 minutes earlier to allow time for registration.
Trials are an important process for us to assess skills and it allows us to align players within teams with similar experience and ability to ensure they are engaged and challenged during the season.
 This year, we are taking a fresh approach towards trials under the guidance of our Technical Director, Fabrizio Rocchi and Vice President for Boys Joe Montagnese.   
We are simplifying the format to encourage a more natural effort for the players by using small-sided game formats. We are also moving trials on weeknights, across 2 weeks.
We encourage players to attend both sessions for their age group and please arrive at least 30 minutes earlier to allow time for registration. Please bring boots, shin pads and water.
Trials will be held at the following locations:
Eltham Redbacks Football Club – 84 Wattletree Road, Eltham North
St Helena Secondary College – 50 Wallowa Road, St Helena
Contact us at coordinatorminiroosboys@elthamredbacksfc.org.au if you have any questions.
Or, if you are new to our club, please register your interest here so that we can keep you informed of any updates: https://elthamredbacksfc.org.au/eois-open-for-2022-season/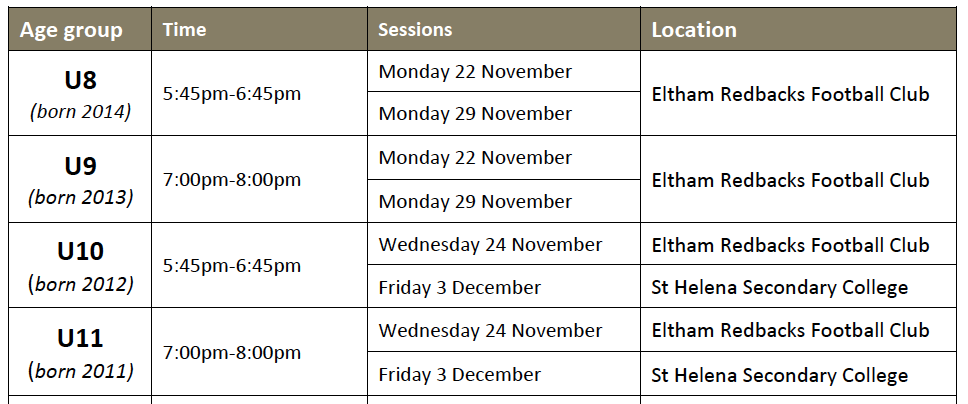 The Club is committed to ensuring that the health and safety of all its participants is paramount during COVID-19. It is important that everyone strictly complies with Football Victoria's Return to Training conditions until they are relaxed. We appreciate this might cause some inconvenience or frustration however this is mandatory for all sporting clubs.
⚫ Return to Training Record of Attendance ⚫

Attendance reporting is mandatory for all players attending, an ERFC Official will collect the required information at the commencement of training. Please report to the designated area prior to entering the pitch.

⚫ COVID Safe ⚫

Whilst all new measures are important, please ensure the rules below are strictly followed:
· If you feel unwell or are isolating, please don't attend. Notify us via email and arrangements will be made to reschedule a trial.
· Players must bring their own water bottle and cannot share with anyone.
· Players must arrive prepared to train – changing rooms will not be in use.
· No-one is to congregate at the entry points.
· Once attendance is recorded, players are to move directly to their designated training zone.
· All players must apply hand sanitiser before and after training. This will be made available, but you can use your own if preferred.
· If reasonably practicable, only one parent/carer to bring their child(ren) to training who must abide abide by gathering restrictions.

Thank you all for your understanding throughout these unprecedented times and we look forward to seeing you on the pitch doing what we love.
QUESTIONS: coordinatorminiroosboys@elthamredbacksfc.org.au
Go REDBACKS!